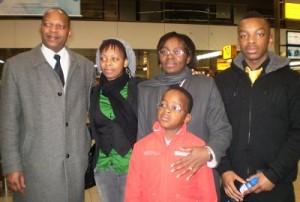 In January 2010, Victoire Ingabire Umuhoza, a mother of three, left her well paid job and family in the Netherlands to go to Rwanda to be the voice of the people under a dictatorial regime. Her arrival in Rwanda proved to be a threat to the ruling party RPF.
Nicknamed the " Female Mandela ," Victoire Ingabire Umuhoza is involved since 1997 in a democratic struggle with the sole goal to install in her country, Rwanda, a state governed by the rule of law and respect for international democratic standards centred around shared political ideas and not on ethnic or regional basis.
Victoire Ingabire Umuhoza was politically active for years and worked with a range of Rwandan opposition groups in the diaspora. She joined the Republican Rally for Democracy in Rwanda (RDR) in 1997, becoming President of the Netherlands branch in 1998 and President of the party in 2000.
Between 2003 and 2006, she was President of the Union of Rwandan Democratic Forces (UFDR), a coalition of political opposition parties to which the RDR belonged. Then in 2006, she helped create the FDU-Inkingi party, later becoming its President.
Victoire Ingabire attempted to bring together a range of political opposition parties in the diaspora with the aim of creating an opposition movement to counter the RPF in Rwanda. She participated in a number of international conferences, including in Spain and the Netherlands where she made speeches and written interventions.
Elected by the political bureau to represent her political party FDU Inkingi in the presidential elections of August 9, 2010, Ms. Victoire Ingabire Umuhoza resigned from her day job in April 2009 to devote herself to her return to her homeland to help the reconciliation and the reconstruction of the war -torn country since 1990.
Upon her arrival in Rwanda on the 16th January 2010, she immediately became a victim of physical aggression, intimidation, harassment and media lynching by the government agents to prevent her from registering her party and to stand as its candidate for election.
She will subsequently be arrested and imprisoned on the 14th October 2010 as a result of her demanding for political space opening. The intention was to silence her from requesting to the government to prosecute authors of war crimes and crimes against humanity committed against Rwandans within and outside of Rwanda, to recognise the suffering and the right to the memory of all victims of those crimes without any distinction whatsoever.
The symbol of women selflessness, honesty and determination
Victoire Ingabire is a woman of exceptional courage. She has distinguished herself by her leadership, her spirit of selflessness which transcends her other interests, for her family, her career.
Victoire Ingabire Umuhoza took upon her shoulders the destiny of her people and of her nation when she decided to confront the oppression prevailing in her country of origin, in the hope of providing an alternative to the Rwandan people with democratic governance and a lasting peace.
She is imprisoned in Rwanda since October 14, 2010 and sentenced to 15 years in jail for daring to express different opinion from those in power.